New Continent Wiki
Countries in Rodenia:

Granida,

Indiana,

Navonia,
New Yonkers,

Noel,

Sudetia,

Veltheia,
Viola, &
Vistania
---
Welcome to the New Continent Wiki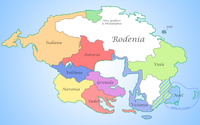 The goal of this wiki is to allow users to create their own nations and to participate in a dynamic web of international relationships. You can start working on your own country by applying here or just join an existing project. Our nations need a history, culture, geography, etc. and there are little boundaries to what is allowed. The site administration just asks to respect the continent layout and general history to avoid futuristic scenarios and brutal user conflicts. If you need any help, contact User:Regaliorum or anyone else in the Site Council.
The Republic of Navonia is a country situated in the south-eastern area of Rodenia. It was founded in 1921 out of the Second Navonian Empire after Emperor Gregory II was assassinated. Though Navonia has a parliament with multiple parties, High Representative Yuri Regalio rules the country by decree. The Republic of Navonia has a rather violent history and the current leadership depends on oppression to stay in power. The regime has nonetheless a remarkable support base and does try to appease its citizens within the boundaries of what they deem acceptable. Pargoth City is the Navonian capital. (Read more?)

The Free Republic of Noel is a democratic country at the right end bottom of Rodenia. The land was fought over for a long period of time and was controlled and made into a communist state in the past, Until founding father Fredrick Noel founded the country of Noel. Today most of the country is free expect a small ammount of land which is occupied by another country that is under marshall law. Michael Villanova is the current Prime Minister of Noel. (Read more?)

Sudetia is a country on the Rodenian continent neighboring the Republic of Navonia. The country is a chiefdom, at the moment lead by Jon Hendrik Johnson. (Read more?)

Granida is a democratic republic in Rodenia, bordering Sudetia in the south and Navonia in the southwest. Portland, on the country's urbanized east coast, is the country's political and judicial capital. Elisabethtown forms the center of commerce and business. The majority of the population is centered around these cities, and on or around the Eastern Peninsula. The western provinces are characterized by a high employment in agriculture, a low population density, and lower access to several services and facilities. (Read more?)

Helping out

We have 225 articles since January 2011. If you want to write a new article, just enter the article title in the box below. Please make sure you first checked whether the article doesn't exist yet.